Where Pest Control & Customer Service Come Together In Tarrant County, TX
We are a family-owned and operated company that lives locally and cares deeply about our community. At Ivy Green Pest Control, we have three main priorities: amazing customer service, outstanding pest control strategies, and YOU: the customer. When your needs come first, that means your home or business becomes our top priority. When you combine this kind of focus with the most innovative pest solutions that the industry has to offer for invasive pests like termites, mosquitoes, ants, rodents, roaches, and more, you get the kind of peace of mind that all of our customers enjoy in their pest-free homes.
Why Choose Ivy Green Pest Control?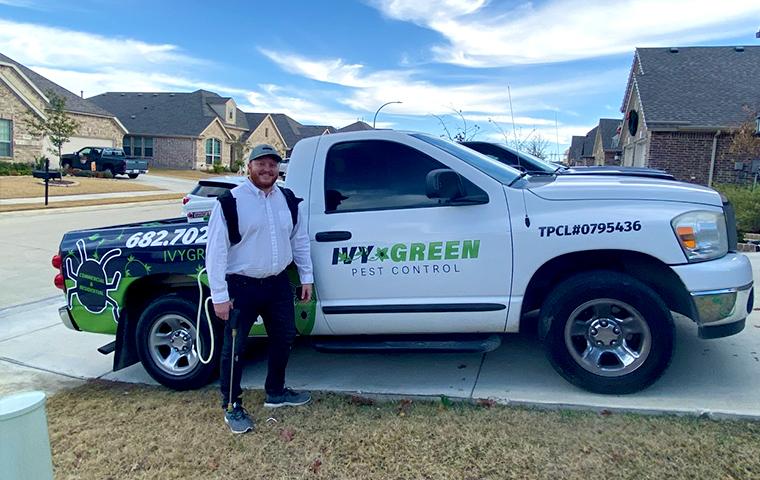 When you decide to enlist professional pest control services, you don't want to ever feel like you're on the back burner. With Ivy Green Pest Control, your problems are our problems, and here's why we can solve them better than anyone else:
Free estimates
Same-day pest services
Free follow-up services between visits
30-day pest-free guarantee
Pest-specific service options, including mosquito control and termite control
Ivy Green Pest Control is rated among the top five pest control companies in Tarrant County because of our guaranteed prevention and eradication methods, along with our above-and-beyond customer service. After you report a problem, we will be at your home within 24-hours to inspect your premises and come up with a service plan. If you opt for year-round pest protection and detect pests between visits, we will return and retreat your property at no additional cost to you. If you're looking for a one-time treatment, we offer a 30-day pest-free guarantee. We stand behind our treatment practices. Reach out to us today to find out more about our service options.
Making Every Customer Feel Like Our Only Customer
At Ivy Green Pest Control, we are a local company that wants to preserve the beauty and wellbeing of our community. There's nothing more frustrating than having a pest problem that isn't handled promptly. And there's nothing more frustrating than when a pest technician makes light of a problem that you know is threatening your home, health, and peace of mind. Our promise to you is to always make your pest problems feel like they're worthy of immediate attention and care, and our treatments will always reflect that promise.
Request Your Free Estimate
Complete the form below to schedule your free estimate.